Playtime!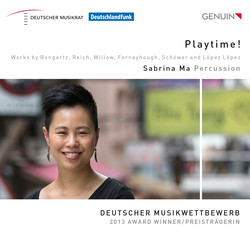 Sabrina Ma (percussion), Rilli Willow (vocals), Olga Zheltikova (harpsichord), Alexandros Giovanos (marimba) & Jan Schöwer (electric guitar)
Bongartz, Markus - Ferneyhough, Brian - López López, José Manuel - Reich, Steve - Schöwer, Jan - Willow, Rilli
Label: Genuin (GEN15361)
Genre: Classical / Chamber Music / Instrumental / Vocal
Please select your preferred currency: (Please note that prices on this page are up to 1564 days old)
* Prices shown are NOT live and FindHDmusic does not guarantee their accuracy. Please check with the individual sites for up-to-date pricing information.
* Hover over the price (or click it) to see when it was last checked.
* Prices shown in italics have been converted from another currency at the prevailing exchange rate and are an estimate only. A different exchange rate may be applied if/when you make a purchase.