Scriabin: 12 Etudes, Op. 8 - 6 Preludes, Op. 13 - Piano Sonata No. 10 - Vers la flamme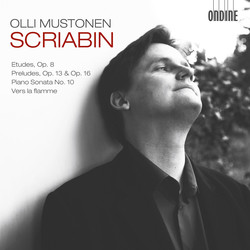 Mustonen, Olli
Scriabin, Alexander
Label: Ondine (ODE11842)
Genre: Classical / Instrumental / Piano
Available at 10 sites
AcousticSounds
,
eClassical
,
HDtracks (Germany)
,
HDtracks (UK)
,
HDtracks (USA)
,
HIGHRESAUDIO
,
Native DSD Music
,
Presto Classical
, Qobuz (
France
,
Germany
,
UK
) ,
The Classical Shop
High-Resolution Downloads
Regional Availability

DE

FR

UK

US

Other Regions

1bit 2822.4kHz Stereo
AcousticSounds
DSD
Native DSD Music
DSD
HIGHRESAUDIO
DSD
24bit 44.1kHz Stereo
eClassical
FLAC
24bit 96kHz Stereo
HDtracks (USA)
AIFF,ALAC,FLAC,WAV
The Classical Shop
FLAC
HDtracks (Germany)
AIFF,ALAC,FLAC,WAV
HDtracks (UK)
AIFF,ALAC,FLAC,WAV
Presto Classical
FLAC
Qobuz (France, Germany, UK)
AIFF,ALAC,FLAC,WAV,WMA
AcousticSounds
FLAC
HIGHRESAUDIO
FLAC
HIGHRESAUDIO
FLAC
24bit 192kHz Stereo
AcousticSounds
FLAC
HIGHRESAUDIO
FLAC
Please select your preferred currency: (Please note that prices on this page are up to 1320 days old)
* Prices shown are NOT live and FindHDmusic does not guarantee their accuracy. Please check with the individual sites for up-to-date pricing information.
* Hover over the price (or click it) to see when it was last checked.
* Prices shown in italics have been converted from another currency at the prevailing exchange rate and are an estimate only. A different exchange rate may be applied if/when you make a purchase.